Sea To Summit Spark SP3 Ultralight Goose Down Sleeping Bag Long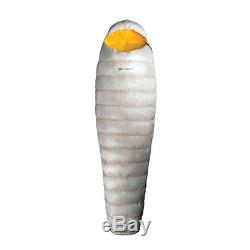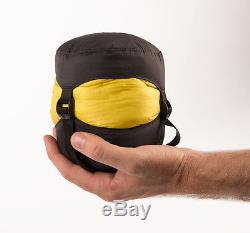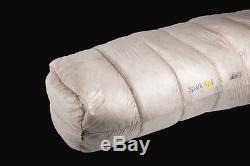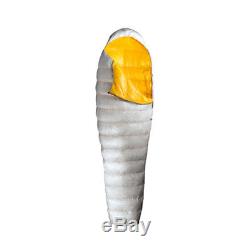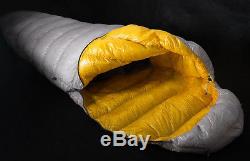 Gear & Advice You Can Trust. Sea To Summit Spark SP3 Ultralight Goose Down Sleeping Bag - Long. WORLDS SMALLEST DOWN SLEEPING BAG!
ULTRA-DRY Down protection and warmth in a minimalist packageand winner of the Gear Junkie 2013 award! When you need a sleeping but don t want to be weighed down by one, what s to be done? Until now you either slowed yourself down with something inadequate or took the spartan option and suffered without.
Now the Spark has changed the game completely. Neither comfort nor performance need be sacrificed! Using the warmth of 850+ loft 90/10 goose down, the amazing moisture protection of ULTRA-DRY Down , and a micro-weight 10D Pertex shell and 15D lining, we have created one of the best warmth for weight minimalist sleeping bags available. The Spark is an ultra light bag with several key uses. Its balance of size, weight and warmth make it excellent as a summer sleeping bag, especially for weight and space conscious cycle tourers and ultra light walkers. The secrets of the Spark s warmth to weight are in the premium quality down and high performance microweight shell and liner fabrics, the 1/3 length light-gauge #3 YKK zip and the sewn-through transverse baffle construction. The Spark compresses so small, we had to re-engineer our compression-sacks to make one that reduced sufficiently.
The ULTRA-DRY Down protection makes the Spark an impressive hard-alpine or adventure racing sleeping bag, where down has never before been a viable option, and weight is simply not tolerated. The Spark is cut as a close-fiitting mummy bag. The full hood, foot box and short zip maximise fit and warnth while keeping weight and bulk to a minimum. Contoured mummy; 10D Pertex Quantum shell for minimal weight and bulk; sewn through lateral baffles for optimal weight/bulk/warmth ratio; 55/45 fill ratio; contoured hood with drawcord; tapered footbox; 1/3 length YKK #3 side zip; includes lightweight 15D Ultra-Sil compression bag, mesh storage cell and laundry bag. Down: ULTRA-DRY Down 850+ Loft 90/10 European Goose Down Suggested use: Travel; Adventure racing; Summer cycle touring; Liner bag; Ultra lightweight hiking;Ultra lightweight alpine climbing.
Prolongs the life of your sleeping bag. In a world of technical brilliance it is remarkable that the performance of certain natural products have not been surpassed.
Despite advances in modern fibre technology, down is still the best insulator warmth for weight, and is also the most durable sleeping bag insulation. The problem with down is its vulnerability to water; moisture decreases the ability of the down to loft to its full potential and insulate, decreasing the warmth of your sleeping bag. Once down is damp or wet, it also takes a long time for it to dry out and effectively insulate again.
With the introduction of water-repellent ULTRA-DRY Down we have virtually eliminated the negative effects that moisture has on down. The ULTRA-DRY Down water-repellent treatment protects the down from external moisture and internal condensation. ULTRA-DRY Down is a permanent Nano-level water repellent polymer treatment applied to our high loft, high quality down. The Nano-thin treatment vastly improves our down s reaction to water without effecting its weight or loft performance.
ULTRA-DRY Down retains over 60% more loft and absorbs 30% less moisture when compared with untreated down. Sea to Summit sleeping bags dry out 60% faster than bags with untreated down. The Nano-level treatment also inhibits bacterial and microbial growth, which makes Sea to Summit sleeping bags more hygienic and improves their lifespan. Sea to Summit sleeping bags, using ULTRA-DRY Down in combination with our already formidable 2D- and 3D-NanoShell system give you the best chance of sleeping warm and dry, day in day out throughout the worst of conditions. With these technologies combined there is simply no reason to choose any other insulation or shell for your sleeping bag. No loss of treatment effect has been seen in over 14 wash cycles.
Loft Loft is the volume for a given weight of down. It is used to describe the quality of down, relating directly to the insulating performance.
High loft down is warmer for a given weight than low loft down. Higher lofting down will fill a larger volume of space for a given weight. As a result, less down weight is required to fill each baffle in a sleeping bag. This translates to a lighter sleeping bag.
The most common measure of loft is called Fill Power. 850 Fill Power implies that one ounce of this down will loft to fill a volume of 850in3.
850+ Loft Goose Down 850+ Fill Power (Loft) Goose Down is the very best quality down available for sleeping bags. It provides the highest insulation for its weight and will last the longest. Sea to Summit 850+ Loft series bags are all filled with Eastern European Mother Goose 850+ loft down. Eastern European Goose Down is well renowned for its high quality, achieving the best loft, with the largest clusters that are strong and resilient, lasting for years.
We guarantee our sleeping bags are filled with premium down that exceeds the stated Fill Power in accordance to the International Down Feather Bureau (IDFB) standard. EN13537 is a European standard for sleeping bag temperature ratings. Everyone sleeps differently; some people are very warm sleepers while others feel the cold easily. There are many factors that affect your warmth and comfort in a sleeping bag. An important factor is that you use a good insulating mat, so your body heat isn t drawn into the cold ground you are sleeping on.
Other factors include your tent or shelter, gender and metabolism, clothing, sleeping bag liner, use of the hood and your daily calorie intake. Although the EN13537 standard does not identify a single precise temperature a tested sleeping bag is suitable for, it does provide an industry standardised temperature range that a typical user can refer to as a guide for the conditions their bag will be most comfortable in.
The EN13537 standard provides three temperature levels to guide a consumer in their choice Comfort - the temperature at which a standard woman can expect to sleep comfortably in a relaxed position. Lower Limit - the temperature at which a standard man can sleep for eight hours in a curled position without waking.
Compressed volume: 3.7 litres Compression bag: XS - 6L to 2L. Suggested use: Travel; Adventure racing; Summer cycle touring; Liner bag; Ultra lightweight hiking;Ultra lightweight alpine climbing Season ratings: Summer/Spring/Autumn Size: Long to 195cm tall, chest circumference 155cm, hip 136cm and foot 96cm. There are plenty of discount operators out there, but all you get from them is a cheap price and nothing else. If it's just a price you're after these guys might be for you, but if you're after a service orientated company that won't sell any other way then welcome to our store. Our cheap postal prices are live up to date prices with Australian post or courier.
Our website is state of the art safe and secure, using a 128 bit SSL encryption protocol, the most secure online-shopping protocol. Unfortunately we DO NOT accept EFT direct deposit. If your item is a double swag or over 20kg parcel must be sent via courier and a daytime street address is required - NOT A PO BOX. Express and regular options are available for most items.
All item prices include GST. All payments made payable direct to'Wild Earth. While all care is taken, any errors or omissions/variations in the item details are unintentional. Colours and images are for illustrative purposes and can vary so please specify when ordering if you require a specific colour otherwise an alternative colour may be sent depending on stock availability. WILD EARTH AUSTRALIA PTY LTD reserves the right to make changes to this site and these terms and conditions at any time.
From time to time we may contact you about offers and new products. You can easily be removed by unsubscribing. For full terms and conditions please visit here. We are here to help you! The item "Sea To Summit Spark SP3 Ultralight Goose Down Sleeping Bag Long" is in sale since Tuesday, September 06, 2016.
This item is in the category "Sporting Goods\Camping, Hiking\Outdoor Sleeping Gear\Sleeping Bags". The seller is "wildearth-australia" and is located in Gold Coast. This item can be shipped to Australia, United States, United Kingdom, Canada, New Zealand.
Manufacturer Part Number: ASP3-L435L-UD
MPN: ASP3-L435L-UD
Brand: Sea to Summit